Description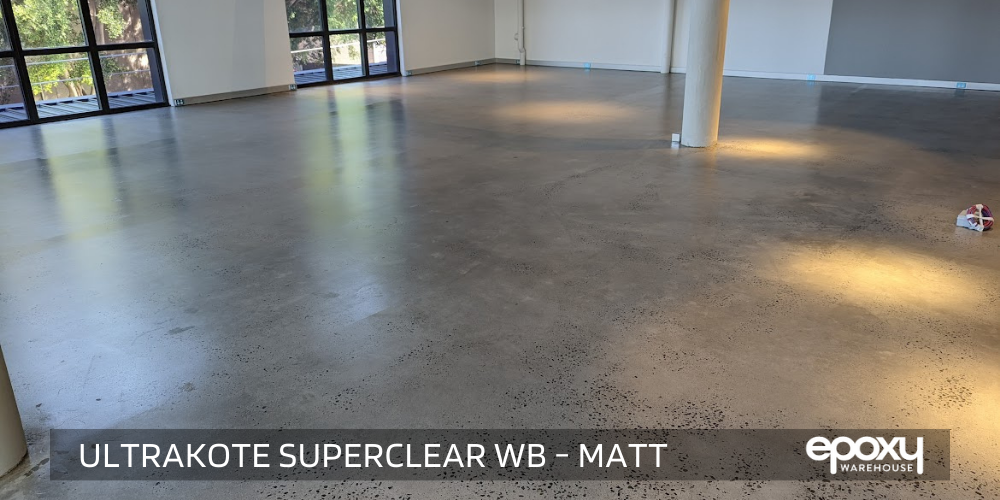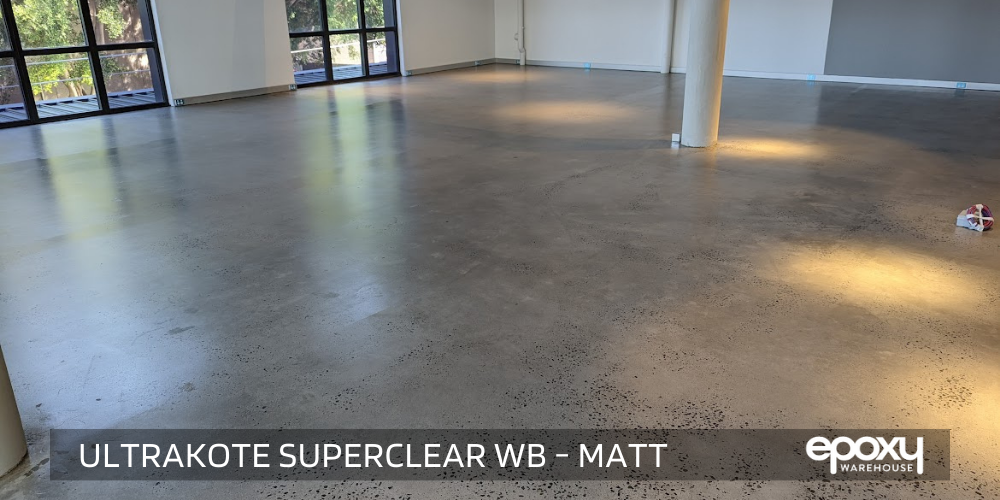 ---
UltraKote SuperClear WB
is a PREMIUM GRADE new generation two part water based acrylic cross-linking emulsion, Formulated to protect and enhance concrete surfaces whilst providing many advantages over conventional polyurethane coatings. this product is an excellent for grind and seal projects.
---
Product advantages:
• Excellent for Interior and Exterior coating
• Waterbased, easy to use
• No solvent fumes or flammable hazards
• Low VOC
• Can be sprayed, brushed or applied by roller
• Quick drying
• Non-Blushing
• Fast water resistance – within 2 hours
• Exceptional gloss finish and also available in matt
• Enhances surfaces
• Hard wearing surface resistant to abrasion
• Hot tyre resistant
• Chemical resistant – oils, greases, alkali
• Resists discoloration from dirt and spills
• UV resistant – Non yellowing
• Provides a dust free surface
---
Areas of use:
Flake Floors
Sealing bare concrete (grind and seal projects)
Protective coating over metallic floors
Garage floors
Patios
Living rooms
Office and lobby floors
Shop floors
Warehouse floors
Showrooms
---
UltraKote SuperClear Matt and Gloss
Assure the surface is fully dry and free of dust or any contamination, caution on new concrete, best to allow 28 days curing prior to sealing.
• Mixing Ratio is 4 Part A to 1 Part B
• Drill mix for 3 minutes to ensure thoroughly mixed | allow standing for 15min to allow aeration to dissipate
• Recommended with 8 -10mm nap roller
• Two coats are recommended for optimum effect.
• Application must not be too thick as excessive build-up may cause the coating to appear milky and thin coats will show roller marks
• Allow 24-48 hours to cure.
• Do not apply when the temperature of concrete is below 10oC.
• Do not apply if rain is imminent.
• Pedestrian traffic is allowed after 24 hours.
• Allow up to 7 days before vehicular traffic access (Dependent on temperature and airflow).
• Clean up equipment with water immediately after use.
---
Recommended Preparation Method
Preparation is the key to achieving a long-lasting floor-coating system
Diamond grinding is recommended method of preparing new & old substrates prior to applying Ultrakote SuperClear WB.
The purpose behind concrete grinding is to remove the existing coating and other types of contamination completely to achieve a clean surface as well as remove any sealer or curing agent and open concrete pores allowing 1st coat of UltraKote SuperClear WB to penetrate deep into the surface and seal the floor.
---

Recommended diamond tooling grits to prepare the floor prior to applying Ultrakote High Solids Epoxy are
120 – 150 Grit diamond tooling as the final stage of grinding to remove any scratches from the floor
PCD plugs to remove flaking paint and then use grinding shoes to smooth out the floor before applying the coating.
Consumption / Coverage
Pack Size
5 Litre Kit
(Part A 4Litre + 1Litre Part B)
Recommended Application Method/s
 UniPro Microfiber Roller
Area Size
1st coat
2nd Coat
Recommended no of coats
No of required Kits
Notes
Up to 20 sqm
1- 3 litres
1- 2 litres
2 Generous Coats
1
20 – 50sqm
3– 5 litres
3- 5 Litres
2 Generous Coats
2
 
 
* Please use the table above as a guide only, as the consumption could depend on the application method /style and porosity of the surface.
UltraKote SuperClear Should Not be applied Using a Squeegee
Document Download
Click on the tiles below to download ULTRAKOTE SuperClear's Technical Data Sheets and Safety Data Sheets.
​
---