The Definitive Guide To Epoxy Flooring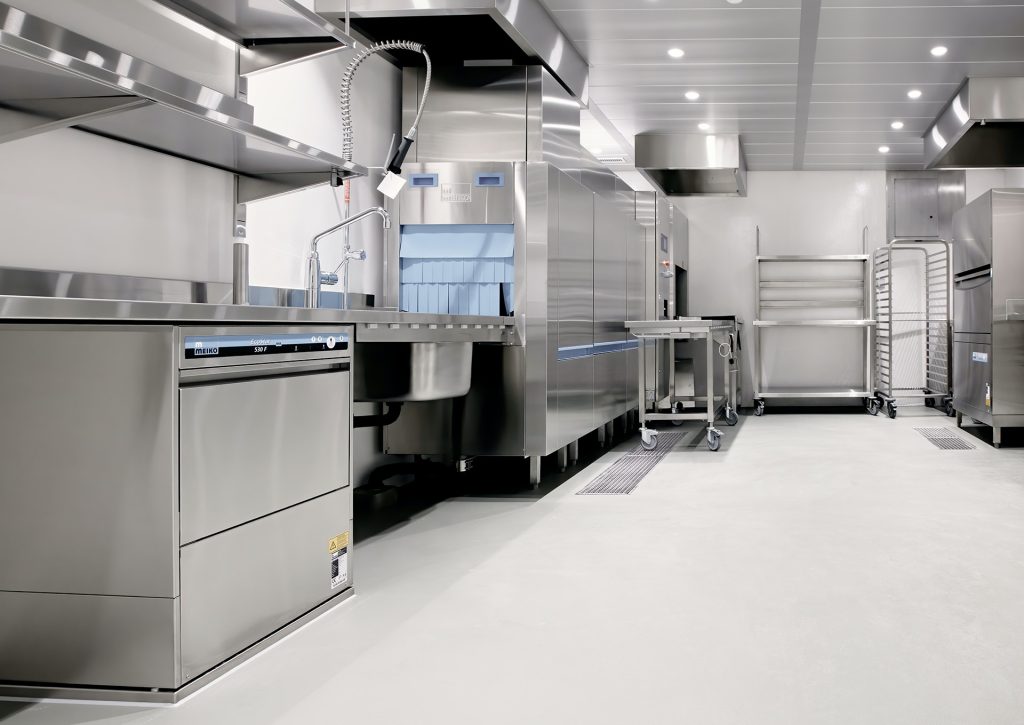 Image credit: Unsplash
Are you redecorating or renovating? There are so many flooring solutions from which to choose. Epoxy resin flooring is an increasingly popular floor finish in residential, commercial, and industrial buildings. But, what are epoxy floors?
Our guide will cover the following:
The benefits of epoxy flooring.

Tips for choosing your type of epoxy floor.

How to prepare your home for epoxy flooring application.
What is epoxy flooring?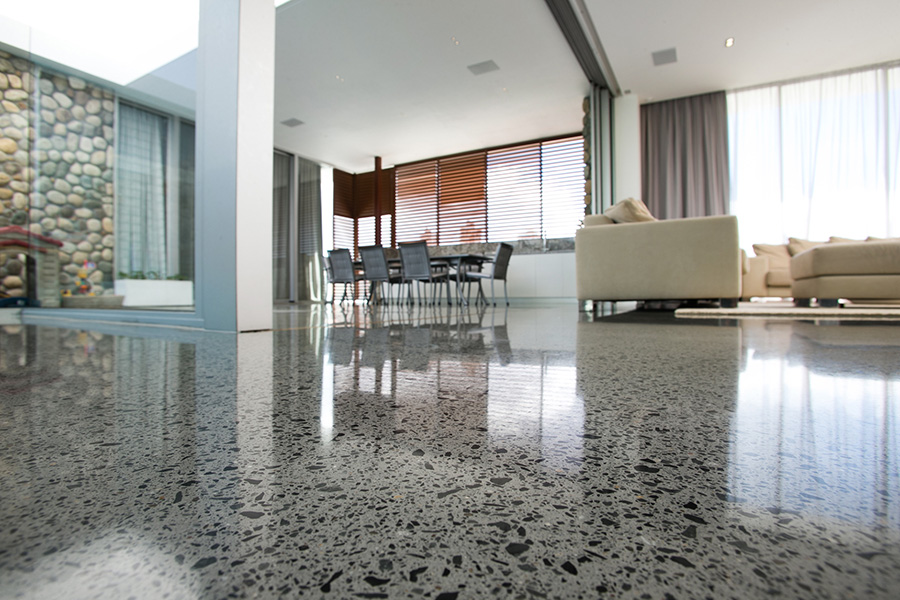 Image credit: American Concrete Polishing And Coating
Firstly, let's look at what epoxy resin floor surfaces are. The epoxy resin consists of resin and hardener; an epoxy flooring system enhances and protects surfaces. It is typically used on a concrete surface. 
Therefore, you'll find it on a garage, patio, and basement floor. You'll also find commercial epoxy flooring in industrial areas.
The advantage of epoxy flooring is that it's incredibly adhesive. Accordingly, it's easy to apply and far more hard-wearing than regular floor paint. You can also use epoxy on cork flooring and marble flooring for a protective finish.
How much does epoxy flooring cost?
So, how much does an epoxy floor cost in Australia? The price depends on the following.
The condition of your existing floor. 

How ample the space is. 

Your epoxy flooring options. Decorative finishes may cost more.
Your flooring contractor should supply a quote based on your flooring needs. Generally, you might expect to pay between $30-35 per square metre to which you apply epoxy. The flooring cost would increase depending on the type of finish you desire.
The difference between epoxy floor finishes and other types of floors in the same price range is their durability. For example, you could purchase vinyl flooring for the same price or less. However, it doesn't have the same level of protection. 
Does an epoxy floor increase home value?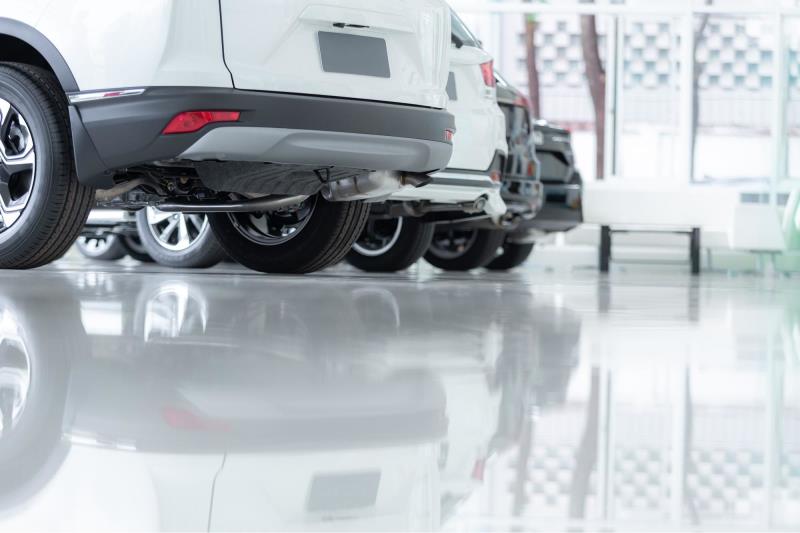 Image credit: Kenna Real Estate
If you're eager to increase your home value, choosing epoxy is an excellent way to improve. Firstly, its strength and durability ensure that it's long-lasting. Secondly, epoxy flooring projects add beauty with a decorative coating without forking out too much money.
For example, consider flake flooring or a metallic epoxy finish to get a unique floor to improve your house's value.
What are the advantages of epoxy flooring?
Here are some of the pros of epoxy floors:
Durable floors:

The adhesive properties ensure a long-lasting floor coating system that won't chip.

Easy to clean:

Epoxy is resistant to chemicals, oil, bleach, cleansers, germs and bacteria.

Décor look:

Whether you opt for epoxy flake floors, a metallic epoxy floor or polished concrete flooring, epoxy looks bright and professional. 

Application:

You can get self-levelling epoxy flooring, ensuring a clean, smooth surface.
What are the disadvantages of epoxy flooring? 
Here are some of the cons of epoxy floors:
Although not true of all epoxy floors, some floor covering types can get very slippery when wet.

Epoxy resin floors contain hardeners that release nasty fumes after laying, and this might be off-putting in commercial flooring — mainly if you apply it in a commercial kitchen. 
How long do epoxy floors last?
If you're looking for robust and resistant floors, epoxy floors are durable and easy to maintain. When installed properly, it's highly resistant to general wear and tear. A typical residential epoxy floor could last for up to 30 years or more. 
Although, an industrial epoxy floor is unlikely to last as long. Commercial epoxy floor coating might need replacing or renovating sooner with more heavy-duty use.
How long before you can walk on an epoxy floor?
Generally speaking, you can walk around 24 hours after applying the epoxy coating. If you do the flooring job in particularly cold or humid weather, it's sensible to wait longer. Moreover, you should leave 48-72 hours before using the new epoxy coating system for heavy equipment or vehicles.
How thick is epoxy flooring?
Most epoxy flooring systems comprise 2-3 layers: an epoxy primer, basecoat, and topcoat. It's about 2-3cm on the concrete slab below. 
To increase the thickness of each epoxy coat, add a filler, such as quartz sand: the thicker your epoxy floor coating, the more durable it is.
How to clean an epoxy floor?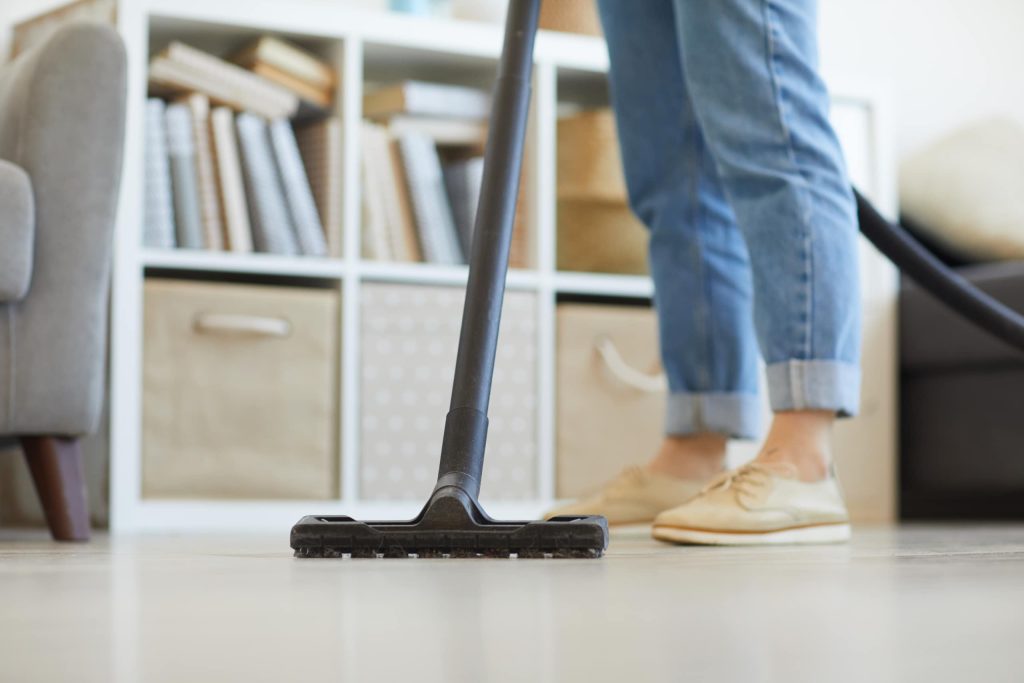 Image credit: Resin Expert
The epoxy flooring material is easy to maintain. It requires very little care. However, to ensure its longevity and keep its shine, regular cleaning doesn't hurt. 
Try to keep the floor dirt-free. Small bits of debris can further general wearing and tearing.

Avoid using hard soaps. These can damage your floor over time. 

Use soft brushes. A stiff bristle brush is too abrasive and likely to scratch your new epoxy floor system.
Will epoxy floors crack?
Epoxy flooring material is very substantial. However, as a result, it is also very rigid and inflexible. It is prone to cracks if the foundation beneath shifts. Therefore, proper preparation and application are crucial. 
To fix any damage in your epoxy garage floor coating, you need to relay another coat. With a professional overseeing the installation process, you can certainly minimise the risk of cracks.
Can epoxy be painted over?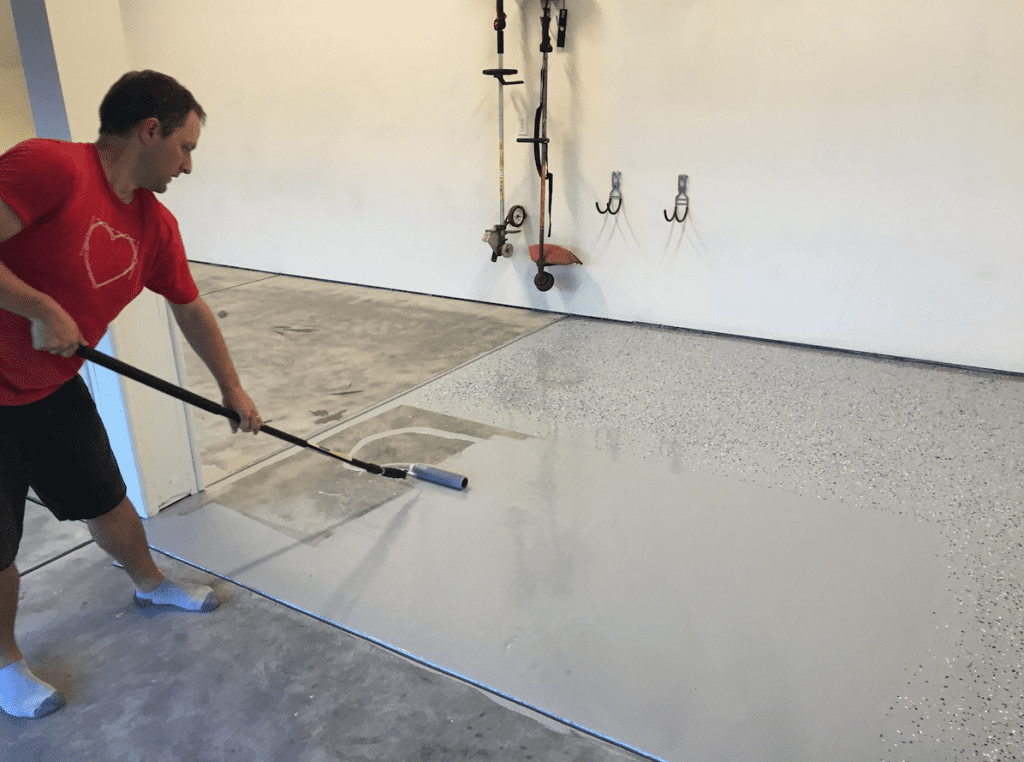 Image credit: Medium
To paint your epoxy floor, you need special epoxy paint. Ordinary floor paint typically isn't strong enough to cope. Firstly, choose a compatible clean paint.
Secondly, you need to roughen the floor with sandpaper so that the paint has something to stick to. Make sure you do a patch test to ensure that you'll like the outcome. Use a paint roller to finish the job. Then, clean the base of any debris.
How to prep a garage floor for epoxy?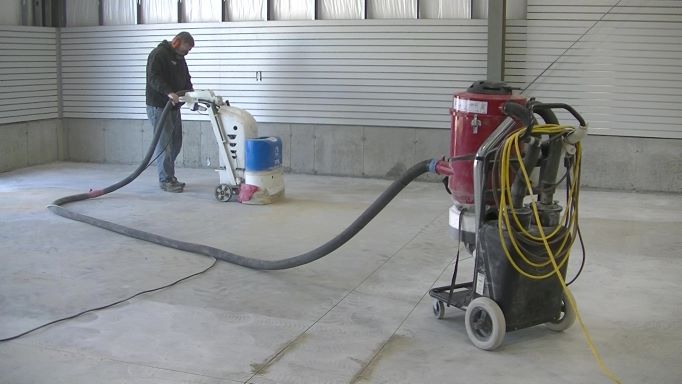 Image credit: Everything About Concrete
If you don't hire floor installers to do the job for you, it's manageable to lay down your garage flooring yourself without extensive experience. Find epoxy kits online. Follow our steps to create smooth garage epoxy floors.
Firstly, you need to prepare and clean the garage floor before applying the epoxy. Ensuring the epoxy property adheres with the concrete flooring needs a slightly rough texture.

Fill in any gaps and cracks with grout.

Sweep and clean the floor. You don't want any debris or dirt trapped in the garage epoxy floors when you finish the process. 

Prime the floor with one or two coats. To find a suitable product, search for

epoxy flooring in Sydney

. 

Apply your epoxy industrial flooring. Follow the manufacturer's instructions. Next, wait 16-24 hours before moving on to the next step. 

After applying your final coat, you can add decorations or an anti-slip coating. 
Your epoxy floor should look smooth and professional with proper care and following each step. 
Are you looking for quality epoxy products?
Epoxy Warehouse is a leading Australian supplier of Epoxy and Polyurethane products widely used by trade professionals and DIY users daily. Our products are used in industrial, commercial and residential projects to repair, beautify and protect concrete surfaces.  
Products listed on our website are competitively priced to allow you to shop with confidence, knowing you will get the best products at trade prices. 
Whether you are completing a DIY for your home or a trade person working on a client's floor, we will supply you with the required floor coating materials for your project needs. 
From the conception of a project to its completion, our experienced experts are available to answer all your questions. We ship Australia-wide with depot pick up options available in Sydney, Brisbane, Melbourne, Canberra, Hobart, Adelaide, Darwin, and Perth. Get in touch with Epoxy Warehouse today.