Description
Sikafloor®-264T AU 10KG Kit Including Pigment Paste
Sikafloor264T is a premium grade, 100% solids thixotropic, textured 2- component solvent free pigmented durable, a decorative finish designed to protect concrete floors and walls and offer seamless durable protection on floors and vertical surfaces.

Advantage of Sikafloor 264T Epoxy Resin
Can be applied on vertical and horizontal surfaces
Excellent resistance to whitening / blooming from early exposure to surface moisture
Excellent chemical and mechanical resistance
Excellent wear and abrasion resistance.
Excellent fuel and chemical resistance.
Easy application by brush and roller.
Available in a wide range of colours to achieve an attractive & aesthetically pleasing finish.

Areas of use
Automotive Workshops
Pharmaceutical
Cleanrooms – Laboratories
Stadiums
Correctional facilities
Amenities, Washrooms
Manufacturing facilities
Carpark decks
Schools
Mechanical workshops
Commercial kitchens
Sikafloor 264T Epoxy Packaging /Kit Size
Sikafloor264T 10Kg Kit Contains:
Part A: 6.55 kg
Part B:  2.0 kg
Pigment: 1.15 kg of Epoxy Pigment
PART A+ PART B + Pigment =  9.7Kg Or 7.3 Litres

Recommended Preparation Method
Preparation is the key to achieving a long-lasting floor-coating system
Diamond grinding is recommended method of preparing new & old substrates prior to applying Sikafloor 264T 10Kg Kit
The purpose behind concrete grinding is to remove any flaking paint and other types of contamination to achieve a clean surface as well as remove any sealer or curing agent and open concrete pores allowing 1st coat of Sikafloor 160 to penetrate deep into the surface and seal the floor.
Acid Etching might be used as an alternative option to prepare the floor for more information on how to acid etch your floor click here to be directed to an external blog. Hydrochloric acid can be purchased from pool shops or local hardware stores

Recommended diamond tooling grits to prepare the floor prior to applying Sikafloor 264T 10Kg Kit
PCD plugs to remove flaking paint and then use grinding shoes to smooth out the floor before applying the coating.
Consumption Coverage Guide| 10kg pigmented kit applied using a 11 – 12 mm nap roller
| | | | | |
| --- | --- | --- | --- | --- |
| Area Size | 1st coat | 2nd Coat | Recommended Minimum no of coats | Required no of kits |
| Up to 10m2 | 5 kg (One Kit) | 4.7 kg (One Kit) | Two coats | One kit |
| 10 – 20 m2 | 9.7 kg (Two Kits) | 9.7 kg (Two kits) | Two coats | Two kits |
| 20 -30m2 | 14.7 kg (Three Kits) | 14.7 kg (Three Kits) | Two coats | Three Kits |

Notes
Please use the table above as a guide only, as the consumption could depend on the application method/style and porosity of the surface.
Applying additional coats to the floors subject to heavy traffic is recommended
Thin down the first coat by adding 5%- 7% of general-purpose thinners
A slip-resistance surface covering can be achieved by adding anti-slip media
Guide to achieving R or P rated slip resistance floor covering using different grit anti-slip media
Slip Rating  
P3 or R10
P4 or R11
P5 or R12
Recommended Product
Boral 30/60 sand

80 grit Aluminum Oxide

Boral 1mm sand

46 or 30 grit Aluminum Oxide

Boral 1mm sand

24 grit Aluminum Oxide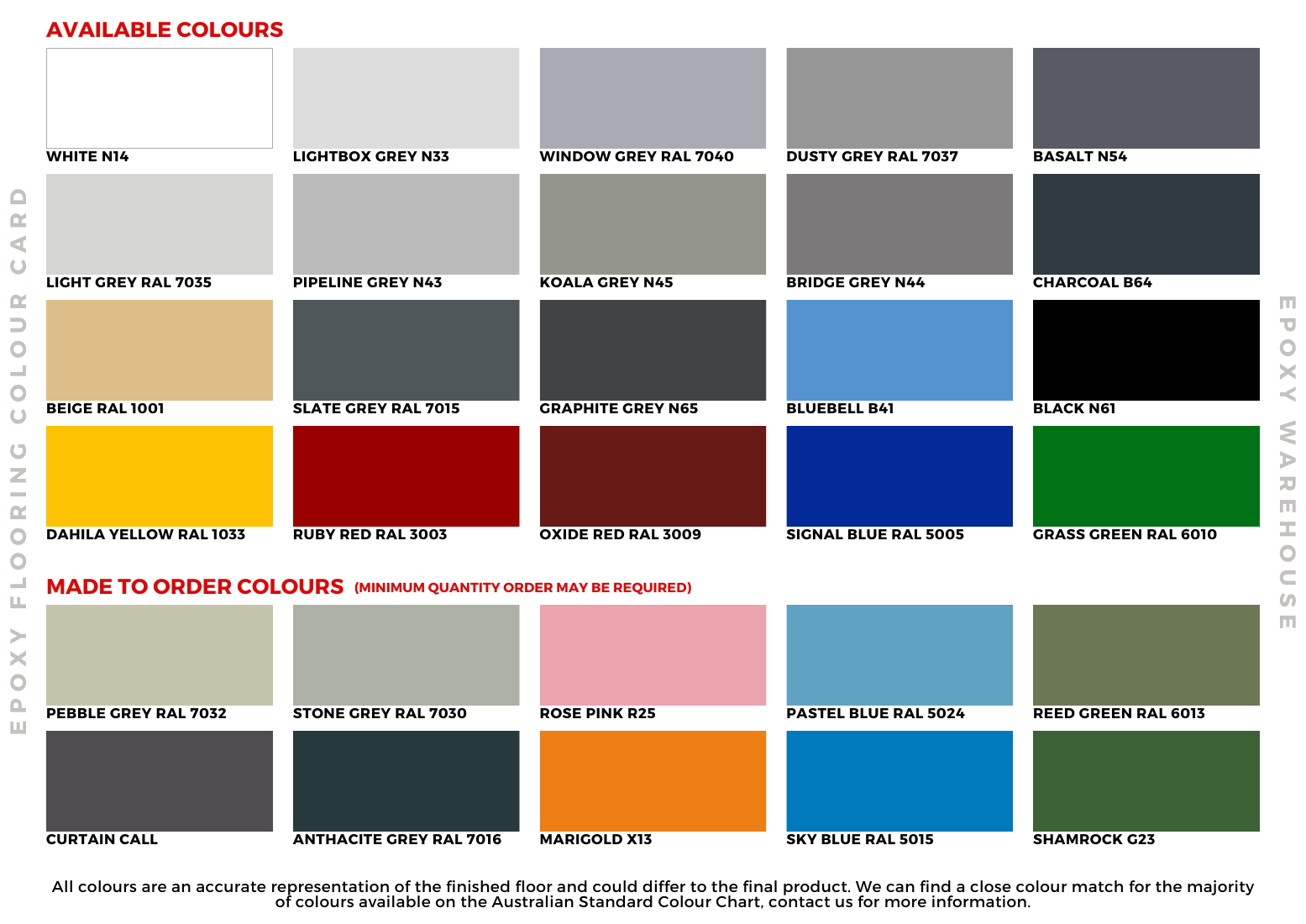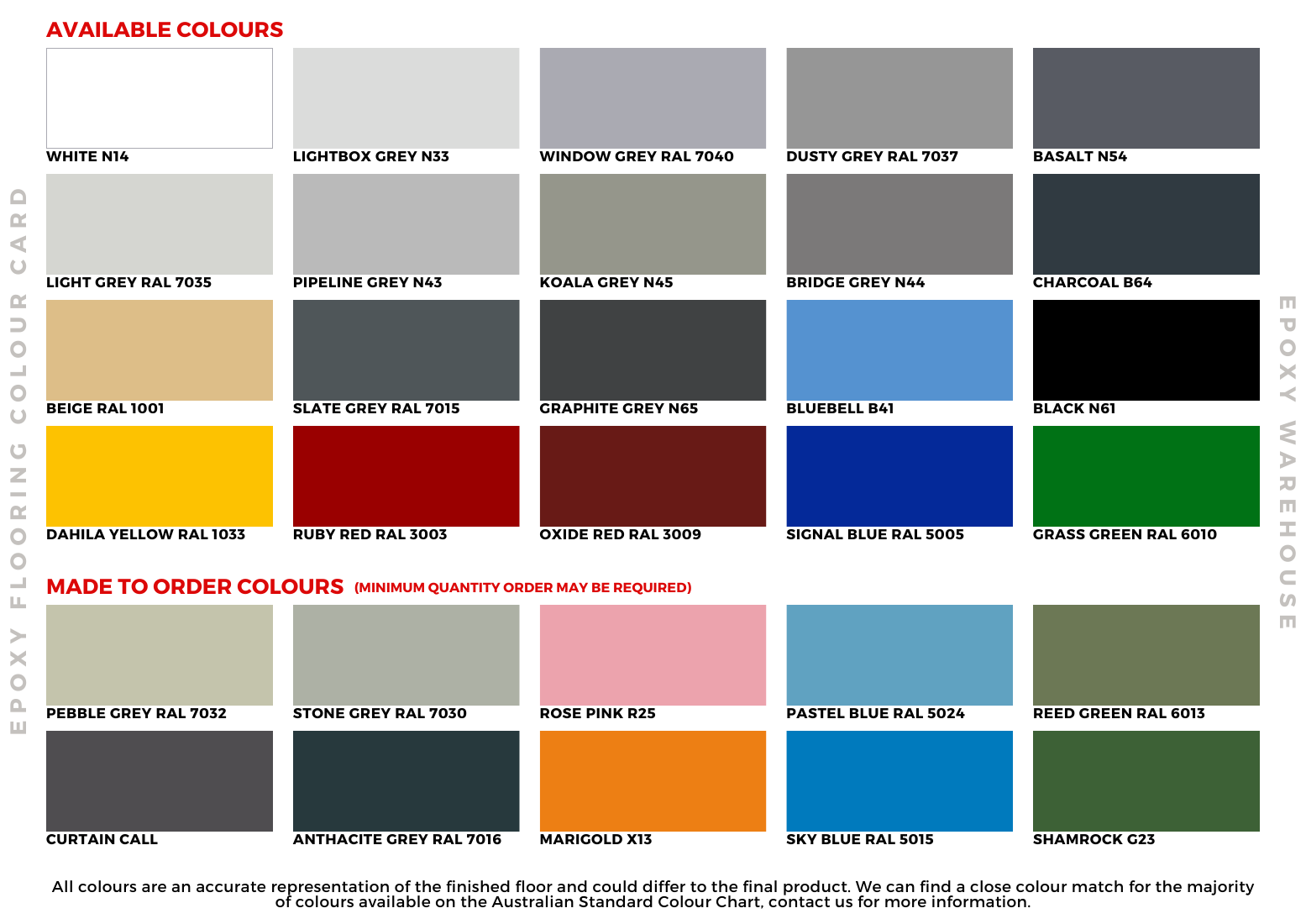 Document Download
Click on the tiles below to download Sikafloor®-264T Technical Data Sheets and Safety Data Sheets.
Sikafloor 264T au – Sika's Website