Description
---
 Solid Colour Epoxy Garage Coating Package To Cover up to 40sqm
---
Presenting UltraShield Epoxy Garage Flooring package – the choice of Epoxy Warehouse for homeowners, builders, architects, and construction professionals. Ultrakote's flooring range provides outstanding protection to concrete surfaces, ensuring years of enduring use. With a commitment to exceptional performance and unmatched durability, Ultrakote's epoxy range emerges as the optimal selection for projects demanding a resilient, long-lasting epoxy solution. Count on UltraShield Epoxy to meet your needs and stand the test of time.
At Epoxy Warehouse, we have put together an all-in-one epoxy package that is designed to make DIY applications, for your garage, easier than ever! This incredible kit comes with all of the materials and basic accessories required for applying two coats of epoxy to a surface area of up to 40sqm. Whether you need an epoxy coating for your Garage, or if you require it for your Warehouse, Workshop, Garage floor, Shop, Commercial Kitchen etc. This deal has it all covered! With this package, you get the benefit of professional epoxy coating without all of the hassle. Please contact us if you require any other information.
Advantages of UltraShield Epoxy Resin
Excellent chemical and mechanical resistance
Easy Application
Excellent hot tyre pick-up resistance
Excellent wear and abrasion resistance.
Excellent fuel and chemical resistance.
Produces smooth and glossy finish, slip resistance floor finishes can be achieved by adding anti-slip media to the coating system.
Easy application by brush, roller, squeegee, or spray equipment.
Available in a wide range of colours to achieve an attractive & aesthetically pleasing finish.

Other areas of use
Warehouses
Manufacturing facilities
Carpark decks
Clean rooms
Educational trade facilities
Aircraft hangers
Schools
Mechanical workshops
Commercial kitchens
Package only includes:
2x

8L

UltraShield Epoxy kits

 – Each 8L kit of Ultrakote HS-Epoxy will cover up to 40sqm of your garage area, when applied using a roller. Please note that the coverage may vary depending on the condition and porosity of the surface.
Epoxy Application Accessories Include the Following: 
One 

container of

Ultrakote anti-slip media.  The epoxy flooring product has the potential to be hazardous and slippery when its wet. We have included   a container of fine antislip media that is to be mixed in the final coat in order to make the surface safe to walk on without making it impossible to clean. If you require greater slide resistance, please let us know and we can change the fine antislip media with medium antislip media at no extra charge
One Epoxy Application Twin Roller/ Brush Kit We have partnered with Unipro to create an epoxy application kit. The kit includes two rollers, two brushes, one tray, one heavy-duty frame, and two roller liners. This allows you to apply two coats of epoxy to your floor without having to worry about the required tools. (Painting Extension Pole is not included in the kit and it can be purchased from Bunnings or local hardware stores)
One Pair of 

Sydney Industrial Coatings

Spike Shoes, Spike shoes lets you walk on wet epoxy and fix any missed spots. You can also remove any foreign objects and back-roll the epoxy product to get better results.
One UNIPRO large mixer epoxy flooring products come in two parts. Part A should be mixed first, and then poured into a measuring bucket. Add the appropriate amount of Part B to your Part A, and then mix it by attaching the supplied paddle to a cordless or corded drill (Drill is not included in the kit)
One roll of Tesa, 48mm cloth masking tape The Tesa cloth masking tape is used to cover areas that you don't want epoxy to get on. This will help you get a straight line and a better finish. Do not use masking tape on the skirting boards because there is a chance that the epoxy will bleed through and leave an uneven finish.
One pair of work gloves to protect your hands while working with epoxy products
---
The following Items are not included in the pack
Patching material for cracks and spalls; if your floor has cracks, consider including ULTRAKOTE'S EPOXY COVING & PATCHINGABARRIER in your cart
Moisture barrier, If your floor has rising dampness issues, consider including a kit of ULTRABARRIER in your order
Extension pole – This can be purchased from any paint shop or Bunnings
Drill – This supplied mixing paddle connects to standard drills
Please get in touch if you have any questions or concerns and we will get back to you as soon as possible.
Recommended Preparation Method
Preparation is the key to achieving a long-lasting floor-coating system
Diamond grinding is recommended method of preparing new & old substrates prior to applying UltraShield Epoxy
The purpose behind concrete grinding is to remove any flaking paint and other types of contamination to achieve a clean surface as well as remove any sealer or curing agent and open concrete pores allowing 1st coat of UltraShield Epoxy to penetrate deep into the surface and seal the floor.
Acid Etching might be used as an alternative option to prepare the floor for more information on how to acid etch your floor click here to be directed to an external blog. Hydrochloric acid can be purchased from Bunnings, pool shops and local hardware stores.

Recommended diamond tooling grits to prepare the floor prior to applying UltraShield Epoxy
PCD plugs to remove flaking paint and then use grinding shoes to smooth out the floor before applying the coating.
Notes
Please use the table above as a guide only, as the consumption could depend on the application method/style and porosity of the surface.
Applying additional coats to the floors subject to heavy traffic is recommended
A slip-resistance surface covering can be achieved by adding anti-slip media
The anti-slip media supplied with this pack will not pass slip rating testing, if your project requires a specific slip rating, use the chart below as a guide to achieve R or P rated slide resistance floor covering using alternative grit anti-slip media.
Slip Rating  
P3 or R10
P4 or R11
P5 or R12
Recommended Product
Boral 30/60 sand

80 grit Aluminum Oxide

Boral 1mm sand

46 or 30 grit Aluminum Oxide

Boral 1mm sand

24 grit Aluminum Oxide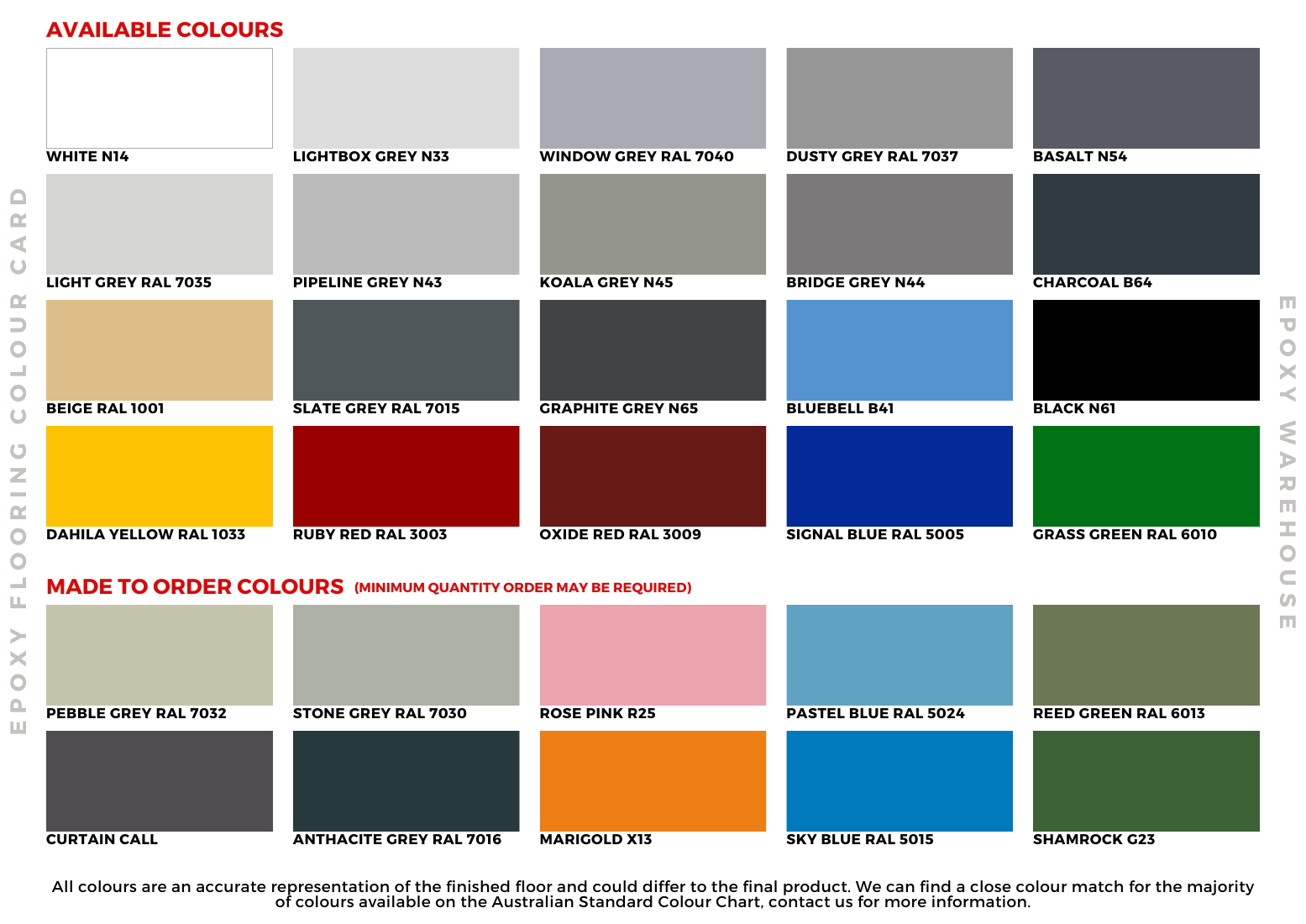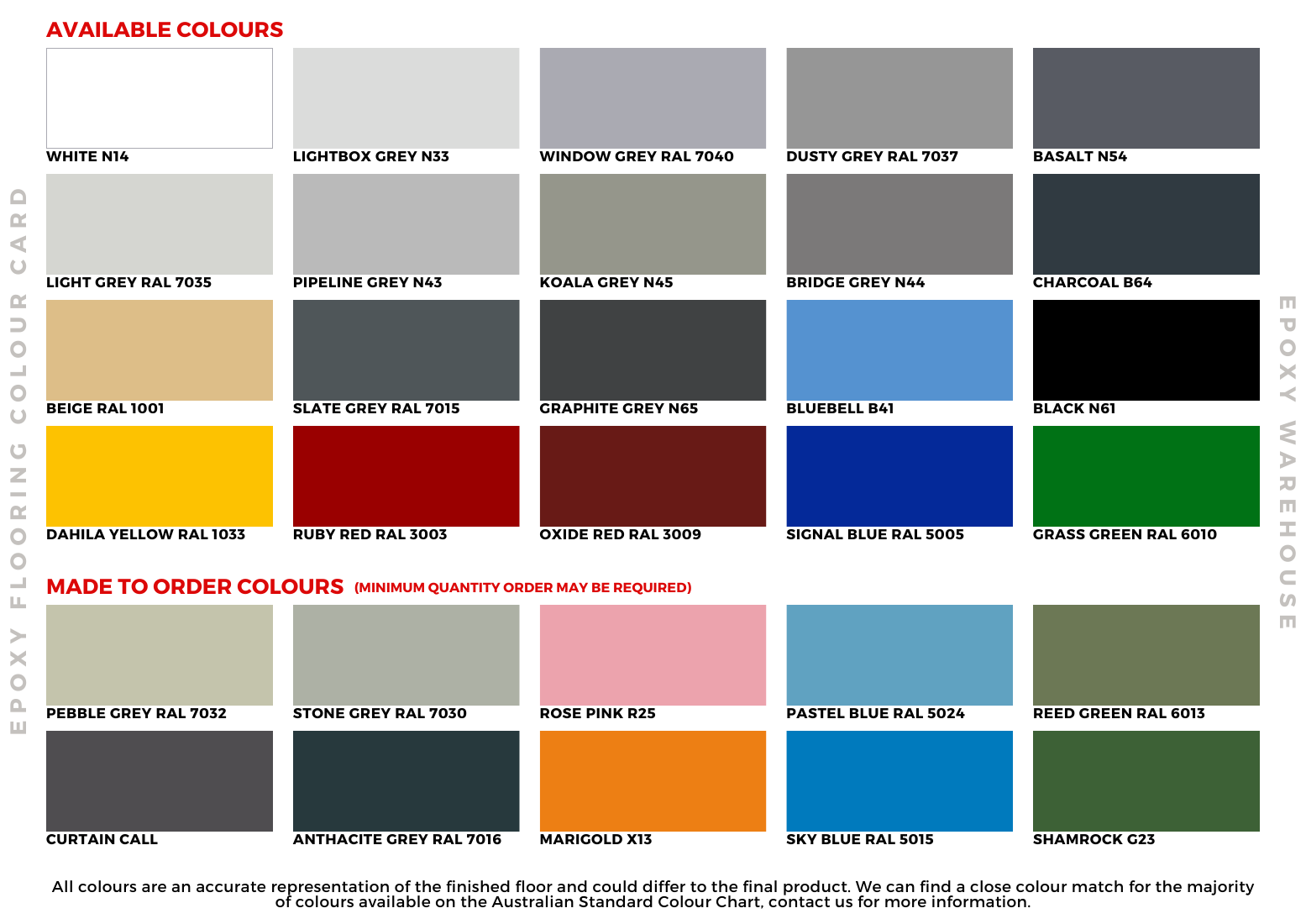 Document Download
Click on the tiles below to download UltraShield Epoxy's Technical Data Sheets and Safety Data Sheets.